About the Old & 'New' Art Sign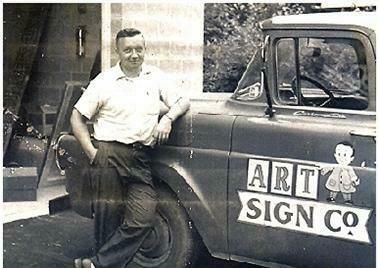 Art Sign Company of Chambersburg LLC was started back in 1948 as Art Sign Company, by partners Edwin ('Ed') Patterson and Frank Cummins.

With only a large-sized drawing board in the rear of a print shop just feet from the nearby town square, Art Sign quickly grew its reputation and business – and with Patterson the sole owner, in 1960 purchased its present location at 470 Nelson Street not far from downtown.

Just 10 years later, outgrowing its facility but continuing to grow its list of satisfied customers, the business added a two-story addition to the rear of its building. Then in 1982 with a need for still more work space,

Art Sign acquired an adjacent property at 460 Nelson Street.

Today, 70-plus years and thousands of new customers later, Art Sign Company of Chambersburg LLC – now owned by Jason Fisher – carries on the proud Art Sign tradition of workmanship, high quality and timely delivery!

Jason and his team all work together as one to create, design and install the very best in modern signage.

We welcome the opportunity to discuss how the 'new' Art Sign can meet and exceed your expectations for professional-quality signage and identification!

Call us today at (717) 264-4211 or e-mail us at: 
info@artsignco.com
.